Dental Bonding at May St Dental Centre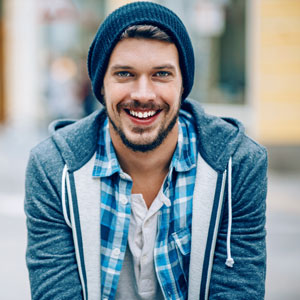 Most people have small issues with their smile that they wish they could address. If you're one of them but have always thought that you wouldn't be able to make the changes you want, May St Dental Centre may have your perfect solution with dental bonding.
Dental bonding can correct minor flaws in teeth. It allows you to avoid more dramatic procedures while making the corrections you've hoped for.
The conditions dental bonding can help include:
Chipped teeth
Discolourations or dark spots on teeth
Exposed roots (abfraction)
Gaps between teeth
Metal fillings
Misshapen teeth
Short or eroded teeth
A simple process is involved in dental bonding. If your teeth are stained or yellowed, you may want to whiten your teeth first. We'll then match the shade of the composite used for bonding to your natural teeth, ensuring it blends in seamlessly.
The first step is to etch the surface of the teeth, which roughens them so that they can receive the composite material. A conditioning agent is then applied to the tooth so that the composite can bond. Next, the composite material is applied layer by layer, then hardened with a curing light. After the final layer has been put on, it is smoothed and polished to a luminous finish.
There is minimal preparation work required before having dental bonding. Your existing teeth can be left fully intact with the composite applied on top. Since bonding is noninvasive, you will be comfortable throughout the procedure. It can be completed in a single appointment, so you don't have to worry about fitting multiple visits into your busy schedule.
I have a chip in my front tooth. Can you use dental bonding to repair it?

If the chip in your tooth is small and located in the right place, we may be able to repair it using dental bonding. Our doctor will perform an exam to determine if dental bonding can benefit you.
I have a gap in my teeth. Can you fix it?

Small dental flaws, such as gaps between your teeth, can sometimes be fixed with cosmetic dental bonding. Bonding is both non-invasive and effective.
To determine if your particular problem can be solved with dental bonding, call our office to schedule an exam.
Want to Learn More?
Bonding is versatile, too, since it addresses a broad range of aesthetic concerns. If you're wondering whether dental bonding East Fremantle is right for you, contact our team today to learn more! Health funds are accepted, and payment plans are available.
* Any surgical or invasive procedure carries risks. Our dentist will discuss all associates risks with the patient.


Dental Bonding East Fremantle, North Fremantle, Palmyra WA | (08) 9319 2606