Tooth Extractions at May St Dental Centre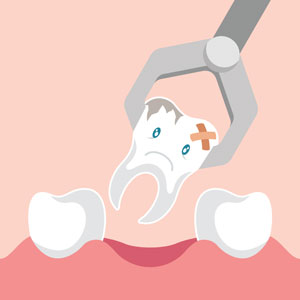 At May St Dental Centre, our team promotes a conservative approach to dentistry with no unnecessary treatment and a focus on preserving your existing teeth whenever possible. In some cases, an extraction may be necessary. If so, our dentists are skilled in performing gentle extractions while you are comfortably under sedation.
If you are in pain or think you may need to have a tooth extracted, we will be happy to consult with you and identify what your needs are.
We can perform extractions in-house without having to refer you.
Once we have determined that an extraction is the best way to proceed, we will take X-rays to see how best to perform the extraction. These images are especially important in planning the extraction of wisdom teeth, which can erupt improperly. When we have decided, this minor surgical procedure will be completed, taking 20-45 minutes depending on how many teeth are to be removed.
Sutures are then placed, which will be taken out after a week at a follow-up appointment.
Any surgical procedure has risks associated with it. In the case of an extraction, you may experience discomfort, swelling, bleeding or an infection. There are some simple pieces of advice we recommend that you follow:
Brush teeth with gentle strokes in the days after the extraction
Eat foods that are soft and be sure to stay hydrated
Reduce any swelling you have by applying an ice pack to the outside of the cheek around the area of the extraction
Stop bleeding by biting into a clean gauze, putting pressure on the area of extraction.
How Can We Help?
Our range of services will help you improve and maintain your oral health. Contact us today to book a consultation for extractions and wisdom teeth East Fremantle! Emergency cases are welcome.
* Any surgical or invasive procedure carries risks. Our dentist will discuss all associates risks with the patient.


Tooth Extractions East Fremantle, North Fremantle, Palmyra WA | (08) 9319 2606