Treating TMJ at May St Dental Centre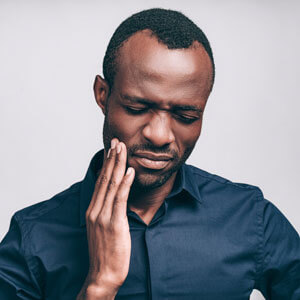 Do you have pain or achiness in your jaw? Perhaps you hear clicking or popping sounds in your jaw when you eat. These and other symptoms likely indicate that you have temporomandibular joint (TMJ) dysfunction, referred to as TMD. When a bite isn't aligned as it should be, the muscles of the jaw are stressed and try to compensate for the bite. At May St Dental Centre, we can provide you a diagnosis and correct your bite, improving your quality of life.
Common Symptoms of TMD
If you have TMD, here are some of the symptoms you likely are experiencing:
Locking of the jaw when opening
Clicking and popping sounds in your jaw joint
Diminished hearing
Dizziness and vision-related disturbances
Ear pain
Headache, ear, jaw or facial pain
Neck, back and shoulder pain
Ringing in your ears
Facial swelling
An inability to open your mouth comfortably
Our Approach to Correcting TMD
During your initial consultation, we'll perform a simple test of your bite to see whether you have TMD. From there, we'll discuss with you our approach, which includes splints and retainers that can provide effective correction and protect your teeth from grinding or clenching. Once a correction is made, your symptoms should begin to disappear. Surgery is rarely needed for TMD. It's our experience that non-invasive treatments such as the ones we offer are highly effective.
The Impact of Stress on TMD
It's no surprise that stress can wreak havoc on the body. You may find that TMD is more pronounced when you're stressed. Engaging in stress-reduction practices can help you decrease TMD discomfort. These could include exercise, massage or yoga.
Schedule a Consultation
You don't have to live with TMD pain. Contact our East Fremantle dental office today to book an appointment for TMJ treatment. We feature same-day appointments for your convenience.
* Any surgical or invasive procedure carries risks. Our dentist will discuss all associated risks with the patient.

TMJ Treatment East Fremantle, North Fremantle, Palmyra WA | (08) 9319 2606