Veneers at May St Dental Centre
Transform your smile with veneers from May St Dental Centre! If you look in the mirror and wish your smile looked perfectly aligned and gleaming, veneers may be the perfect solution for you. We provide them in porcelain or composite materials that can suit any lifestyle or budget.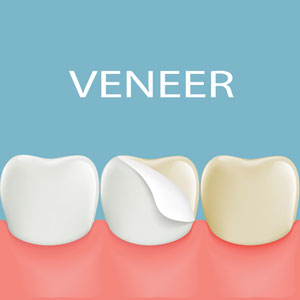 Veneers can address a broad range of dental concerns:
Chipped teeth
Cracked teeth
Gapped teeth
Misaligned teeth
Misshapen teeth
Porcelain Vs. Composite Veneers
Porcelain is a strong material that closely resembles natural teeth yet are resistant to staining. The biggest advantage of choosing composite veneers is that they are less expensive. We'll talk to you about which material we recommend for your case, but both can give you the dazzling results you seek.
The Process of Getting Veneers
The first step is to have an evaluation with one of our dentists. At this appointment, we'll talk about your goals and make sure that your teeth are healthy enough to have the veneers applied, as well as discussing which materials are best for you. Once you're ready to move forward, we'll prepare the existing teeth to receive the veneers, removing a minimal amount of enamel for a seamless fit. Photos and impressions are taken so that we can choose the proper shade and shape of the veneers.
The information is then sent to our Australian laboratory where the veneers are custom-created. When completed, they will be sent back to our practice, and you'll return for a follow-up visit. We'll bond the veneers into place, then polish and shape them for a gleaming finish.
FAQs
How long do porcelain veneers last?
Porcelain veneers have been known to last anywhere from several years to a decade. Porcelain veneers are very strong and durable, but how long they last really depends on how well you take care of your teeth and your oral health in general.
Proper oral hygiene plays an important role in the longevity of your dental veneers. In general, though, you will get the most out of your veneers if you treat them with the same care as your natural teeth.
Can porcelain veneers get chipped or fall off?
Porcelain veneers are considered to be a permanent restoration since they are bonded to the surface of your teeth. They are made of porcelain, a very strong material, so it is rare for them to chip or fall off. In the unlikely event that this does happen, however, the veneer can be repaired and bonded back into place.
Making Your Veneers Long-Lasting
Veneers aren't subject to staining or other forms of damage. It's important, however, that you still brush them and floss between the veneers to keep the teeth underneath and the supporting gum tissue healthy. Along with your biyearly dental checkups, these healthy habits ensure that your veneers last for years.
Contact us today to discuss if veneers East Fremantle are right for you! DentiCare payment plans are available.

Dental Veneers East Fremantle, North Fremantle, Palmyra WA | (08) 9319 2606